Forensic research into debris in Gilze-Rijen
Hard graft in a military hangar
Eleven containers, crammed full with remainders from the crashed MH17 - That is the proverbial haystack that forensic researchers at Gilze-Rijen Air Force Base have to search through completely. Besides this, there are heavy airplane parts, some weighing as much as 6000 kilos. Everything will go through their hands at least five times in order to locate crucial pieces of evidence.
​Normally, the Crime Scene is taped off with red and white tape, only accessible for the police. The location where the debris of the MH17 was found was unguarded. Forensic researcher Jouke Jonker shows a press photograph by way of illustration, on which a cyclist passes a piece of wreckage in a cornfield. "Everybody had access, except for us."
X-ray and CT Scan street
Immediately after the crash in July 2014, the remains of the victims came to The Netherlands. In the Korporaal van Oudheusden barracks in Hilversum the identification of human remains takes place. Simultaneously, within 24 hours an additional 'street' with X-ray and CT Scan equipment is set up on the site for the criminal investigation. Radiologists keep their eyes fixed on X-rays and CT scans to identify any foreign material.
In this way, the research team finds about thirty usable parts, each of these smaller than a cubic centimetre. These minuscule parts may prove to be of vital importance to complete the jigsaw. But the investigators will discover that only much later.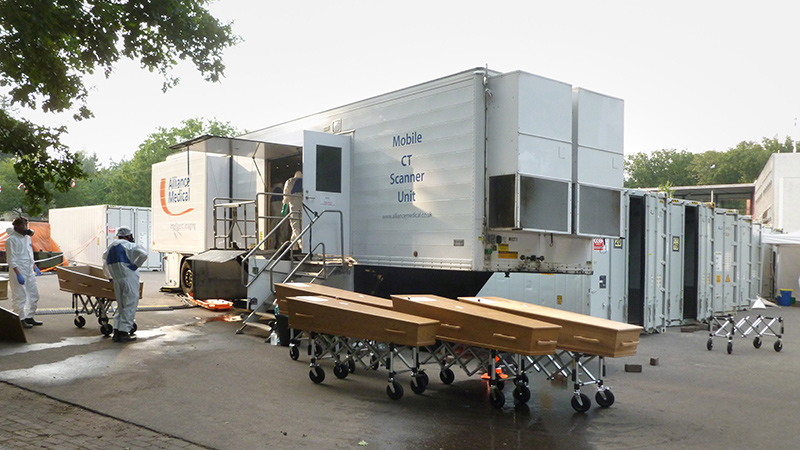 Mobile CT scanner units make CT scans of the human remains of the victims. Among other things foreign materials are searched for.
Debris
In November 2014 the research team can fit out a Defence hangar at Gilze-Rijen. In December 2014 numerous trucks arrived carrying pieces of wreckage; an impressive procession. "We are used to investigating details, but now it was a whole airplane full", says Wilton Derks (Forensics employee).
The investigators are aware how difficult it is to assess the usability of the material transported from the Ukraine. The pieces of wreckage were transported in train carriages and after that upon trucks for many kilometres. Traces of a missile, for example, may have come off from one piece or the wreckage and fallen onto another during transport. What then is the evidential value of the material?
Inside out
With combined effort, the team meticulously scour the pieces of wreckage transported to Gilze-Rijen on the trucks. Some months later, they again search wreckage transported in another eight shipping containers. While doing so, the team is required to wear special protective clothing, because of the possible presence of carbon fibres from the airplane that are more harmful for one's health as asbestos.
Each of wreckage pieces is meticulously examined. What kind of damage does it have? How could that damage have been caused? Which theories can these pieces confirm or invalidate?
Children's cuddly toys and photo albums
"Characteristic for this investigation is that we change perspective very regularly", says team leader Dennis Spies. "What would a lawyer say about this? How does the public prosecutor see this? Can we give a definite answer to a critical question? We continuously have to keep a broad view. At the same time we chronically suffer from impatience, both from ourselves and from our environment."
Among the belongings the team finds children's cuddly toys, pink princess trolleys and photo albums from victims who have photographed themselves in front of major European landmarks. Of all the items recovered these private items have the greatest personal impact on the team. Marjolijn van den Berg (administrative support) remembers a piece of cabin furniture in which a half-eaten bag of Lays crisps was found, "then, you think straight away of that little child who half emptied this bag."
Tower wagons
In the end, about 30 to 35 percent of the crashed airplane arrived in The Netherlands. The pieces vary from 1 cubic centimetre to debris weighing 6000 kilos. Investigators need equipment ranging from microscopes to fork-lift trucks, cranes and tower wagons. All parts are carefully numbered, photographed and described in detail. For the digital reconstruction they take 8000 separate photographs of the wreckage.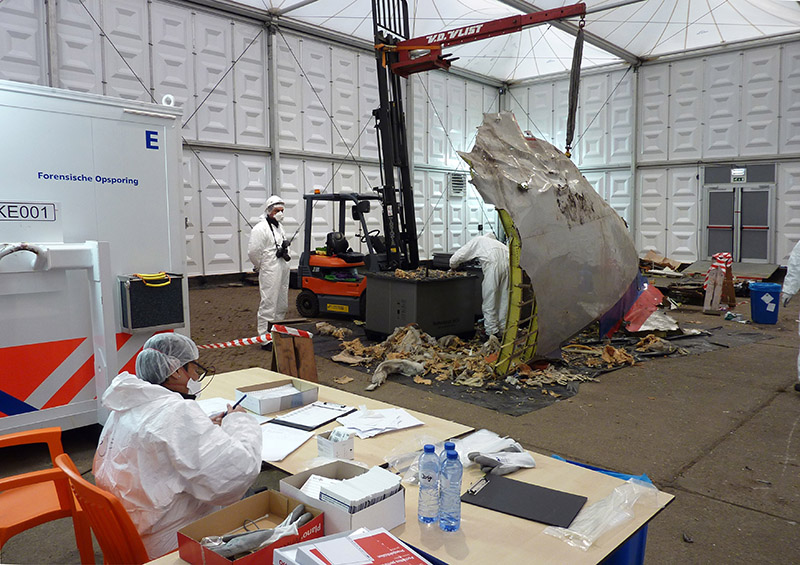 Work is carried out with much attention to detail. Each piece of debris, large and small, is given its own identification number.
Breakthrough
Back in a Ukrainian field remains from what is suspected to be a Buk missile are retrieved. But how can it be proven if this is the missile that caused the crash? In an experts' meeting, investigators from various JIT countries try, through tedious forensic work, to allocate the missile parts to a certain source. "We can allocate various small parts to a missile", says Jonker, "it is really drudgery."
All samples go to the Dutch Forensic Institute (NFI), which compares all materials found to each other. Further study of the small metal parts found on the bodies of some casualties provides a breakthrough. The fact is that on those parts zirconium has been found, a substance that is only used in the cockpit windows. This is a strong indication that the metal parts located in the victims came from outside, passing through the window pane of the cockpit. "Even more important is that these parts were found in several casualties", says Jonker, "that makes it improbable that this was manipulated. The providing of this kind of evidence; that is the power of forensic research."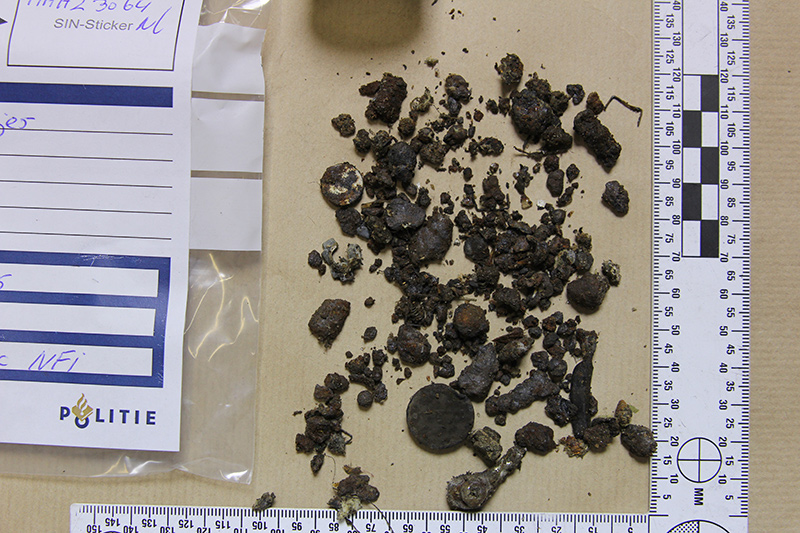 Iron particles discovered during the search, distinguished by surface corrosion, most probably do not belong to the aircraft. These particles are sent to the NFI for analysis.
Jigsaw pieces
Because none of the teams has any experience with such a complex investigation of this type on such a large scale, the researchers must rely on themselves during the examination. That means being innovative, drawing on one's professional networks and experience, and learning a lot on the job to solve problems as the examination progresses.
The team has achieved some good results, with the team locating several pieces of forensic evidence. According to Dennis Spies, that shows that this investigation forms a largely labour-intensive but still elementary part of the whole criminal investigation. "After almost two years of daily investigation, I still see an unremitting passion and professionalism of the colleagues", Spies says, "we can only write a report when we have had all jigsaw parts in our hands. That is why this type of investigation is the most time-consuming by far. But fortunately, that does provide much."
Not identified
What really does bother them? Unfortunately, up until now they haven't been successful in identifying the last two victims. "We have got the maximum out of it", says Jonker. "All bags have been emptied on the tables. We went through it with magnifying lenses and tweezers. We have done everything to filter the last mortal remains from it."
Forensic research
For forensic research, the National Investigation Service closely collaborates with investigating officers from Australia, Belgium and Ukraine. Remote also Malaysia is involved. Jointly, they have set outlines for the investigation. The broader the investigation is supported, the better the presentation in court.
With their searching, investigators have to take different legal systems into account. In Australia, all material must be physically presented in court, during which the experts shed their light on it. That is not always necessary in The Netherlands.
In Gilze-Rijen, some tens of people have been working for quite some time every day doing forensic research: police investigators, external experts, international partners and representatives from the Dutch Forensic Institute (NFI). At the busiest time, almost 100 people were working there, including people from the Dutch Safety Board.